How to find the Clinic
View Larger Map
Seapoint Clinic of Naturopathic Medicine,
41 Seapoint Avenue,
Monkstown,
Co. Dublin.
From N11
Head southeast on Stillorgan Road/N11/N31 toward R825
Make a U-turn at R825
Turn right onto Mount Merrion Ave./N31
Turn right onto Rock Road/N31Continue to follow N31
Turn left onto Newtown Ave./N31
Take the 1st right onto Seapoint Ave./N31
Destination will be on the right
By Dart

Seapoint Clinic of Naturopathic Medicine is 3 minutes walk from Seapoint Dart Station. When you exit the Dart station, turn left and walk along the coast road towards Dun Laoghaire (the sea will be on your left). Ignoring the turn to the right for Belgrave Rd, continue straight on until you see a large grey period house with bay windows (painted dark red) and a 'Surgery' sign on your right. Immediately after that building, you will see an entrance to a parking area in front of a row of cream period houses. No. 41 is the first house (in the corner) with a red door. Proceed down the steps to the white basement door and ring the bell. This is the clinic!



&nbsp Skype Consultations Available
Click here to SIGN UP for the Seapoint Naturopathic Newsletter
Latest News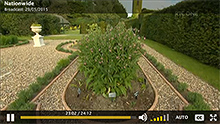 RTE Nationwide feature on Herbal medicine, including launch of St. Anne's Physic garden, Jan Keating and the IRH (16:55 minutes in)
23 and 1/2 hours: What is the single best thing we can do for our health?
The Skinny on Obesity (Ep. 1): An Epidemic for Every Body
___________________________________
Please click on 'YouTube' links on the above videos to watch them in full resolution on YouTube.